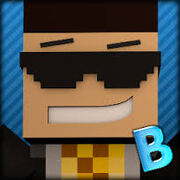 Bodil40 is a youtuber,that is popular thanks to his epic jump map series, which many other popular youtubers play on their channels, his trollish personality which can be seen in many of his videos,and his iconic laugh. His relationship with Super Craft Bro's are the maps he has made for the server as well as doing videos with he and his friend playing Super Craft Bro's.
Background
Edit
from his channel:
Hello guys,
Bodil40 here! My real name is Martin and I come from Bulgaria.
I'm a big fan of Minecraft, Call Of Duty, SkyDoesMinecraft xD, League of legends and some other pretty epic stuff :)
I love building maps and making Let's Plays ... and also I might be a troll sometimes! :)
Stay Awesome,
Martin!
as of June 10 2013, bodil has more then 180,000+ subs
and 4,000,000+ video views
he joined youtube in january 26 2008 and his first video was:
I AM SUX Fanart [Awesome TNT Creeper]

Edit
uploaded on july 1,2011
Tropical (Free)
Winter (Free)
Jungleriver (Free)
Mountain (Free)
He was a big part of the maptastic update
Bodil is OP in the servers
His maps are the only ones that use command blocks (with the exception of tropical which doesn't.
He is also famous for his iconic laugh.